Dreamscape Designs Services
We are proud of our professional workmanship and for us, no job is too big or small. Please take a moment to review the many services and programs we have to offer.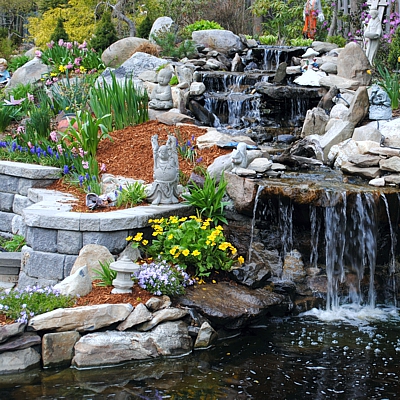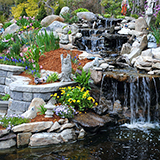 Professional Landscape Design
A Professional Landscape Designer will develop a plan for your property with you and your family in mind. They will show you the proper materials, plants, landscape lighting, irrigation, and help you visualize the full potential of your landscape, so that you and your family can enjoy it for many years to come. With the greatest intention, homeowners often take upon themselves the task of landscaping their own property, only to find out a few years later that the plan was not as functional as they had expected.
Dreamscape Designs, will meet with you several times throughout the designing process. We will gather information pertaining to your wants and needs, survey your property, and make an analysis of existing on site and off site conditions.
We then create a Conceptual plan, by preparing two alternative preliminary plans which will be presented to you at your home. These plans will show to scale the various features of the design, such as bed lines, walkways, patios, driveways, and other functional areas.
These plans will be drawn free hand, showing you the location of all proposed site elements, and existing site features that are to remain. We then proceed to the further refinement of one of the alternative plans, or a combination of the two, to establish the final "Master Plan".
The "Master Plan", will show you the "Hardscape": (retaining walls, walkways, outdoor kitchen, fire pit, etc., and the "Softscape": (shrubs, trees, annual flowers, and perennials). A Professional Landscape Design will increase the aesthetics of your property. A well designed and properly installed landscape will increase the beauty and value of your property.
Visit our Galleries page for examples of past projects.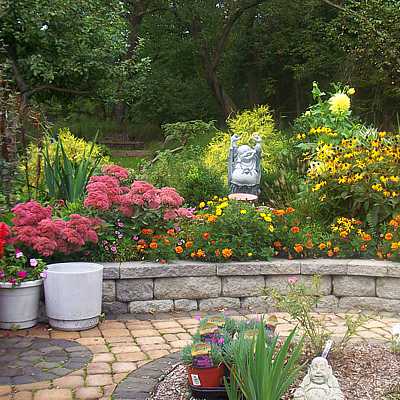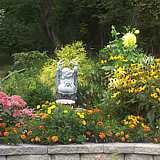 Flower Scapes
What is flowerscape? Simply put, it is designing an outdoor space by planting annuals and perennial flowers to compliment your landscape. Anyone can plant flowers, but not everyone can achieve a healthy spectrum of color.
The design of your flowerscape can be done at any time of the year. Spring flowerscapes bulbs are planted in the late fall, up until the end of November. They come in different heights, shapes and colors. We combine spring bulbs such as daffodils, tulips, and hyacinth with border bulbs like grape hyacinths, crocus, and anemones to bring a warm burst of color.
Once your spring flowers have finished blooming, we begin planting summer annuals. We work with you on a color palette of your choice, and plant in groups of 5-7 or more - with proper spacing - so your garden stays beautiful all summer and fall. Perennials flower at different times in the season. Annuals will last from May until December (or until first frost).
In the fall it's time to plant "mums." It is common to remove annual flowers around this time, since mums and other autumn flowers are more hardy in the cooler weather. Mums will come back in the spring if planted early.
Contact us to plant for spring, summer and fall so you will have a unique and colorful garden that gives you pleasure through the seasons.
Visit our Galleries page for examples of past projects.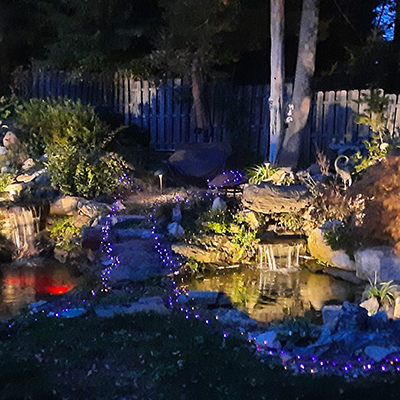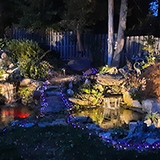 Low Voltage Lighting Solutions
Landscape lighting is an art. When done by experienced professionals who take their time to properly place each fixture the result is a panoramic display of lights.
There are many reasons why you may want to install low voltage lighting. Lights provide security and safety - a well illuminated home may deter thieves from targeting your home. Illuminated walkways, front entrance, patios and steps, help prevent falls. Lighting enhances the aesthetics of your home, extending the beauty of your patios, decks and yard into the night. Landscape lighting highlights the focal points and architectural features of your home, and creates your own personal oasis.
Visit our Galleries page for examples of past projects.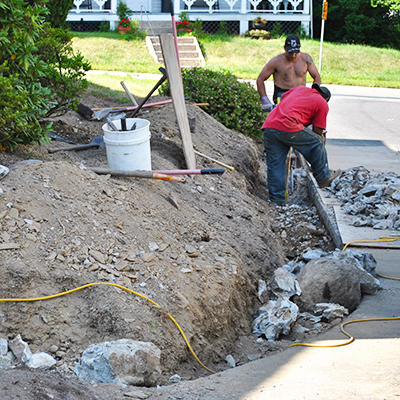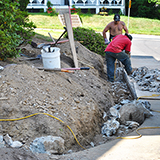 Excavating & Drainage
There are many reasons to hire an excavator: new landscaping planting; removal of unwanted trees, tree stumps, rocks and vegetation; grading the ground, etc.
Drainage work is done to remove water that is stagnant for more than 24 hours; connecting leaders to move water away from the house foundation; and yards with poor drainage.
Dreamscape designs has the skills and years of experience to help you solve your drainage problems.
Visit our Galleries page for examples of past projects.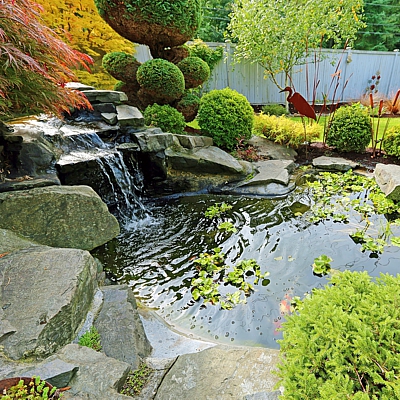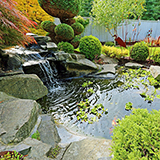 Ponds & Waterfalls
There is nothing more soothing than listening to the sound of a waterfall and watching your fish swim around. A waterfall is music to your ears. It is therapy of the best kind. The sound of splashing water brings nature to your yard - frogs, birds and other creatures.
A pond with aquatic plants and koi fish creates a unique water feature that adds to the interest of your landscaping. You can find yourself mesmerized by the fish for hours, and benefit from the stress relief.
Visit our Galleries page for examples of past projects.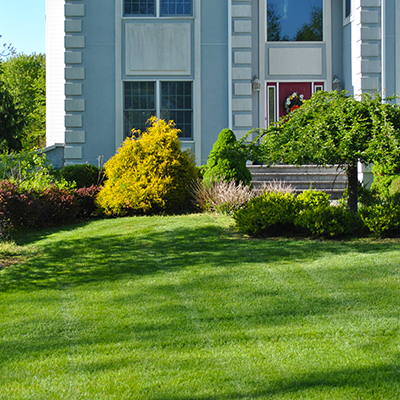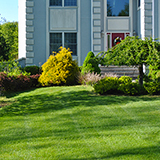 Lawn Maintenance
Great lawns don't just happen. They are created and maintained by people who care. As professionals with more than 35 years of experience, we can help you achieve the look and curb appeal that will make your property stand out from your neighbors, and make you proud.
A good looking turf comes with regular weekly mowing, and proper maintenance. Dreamscape Designs will keep your turf well manicured. It will keep an edge appeal and a healthy, safe, and attractive lawn for years to come.
Our weekly maintenance service includes: mowing, edging, and clean-up (patios, walkways and driveway). We offer consistent and reliable service at an affordable price. We are proud of what we do, because we care.
Visit our Galleries page for examples of past projects.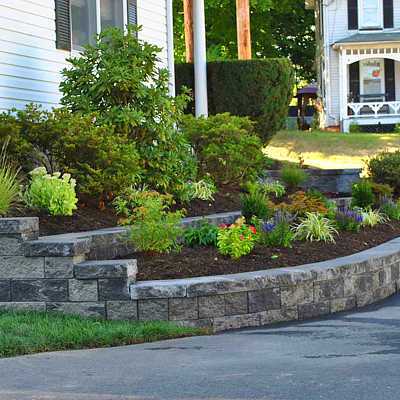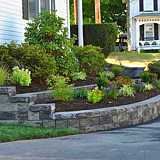 Hardscape - Patios, Decks & Retaining Walls
Patios and surrounding areas custom-designed by Dreamscape Designs achieve a unified look that blends beautifully with the architecture of a home. The most common question from homeowners is size and shape. The answers depend on the intended use: How many people will you entertain? What kind of furniture will you have? Do you want a kitchen area or a fire pit? Our years of experience will help you determine the best size, shape and style for your needs. The next step is choosing the materials: pavers, slate pavers, slate stone, concrete, etc. We can help you look for colors that will compliment the siding of your house or the stone veneer. You may even want to consider a different color for the border or a combination of materials to create a unique and interesting design pattern.
Decks are an extension of your home. The most commonly used materials are redwood, cedar, pressure-treated wood and composite material. Redwood and cedar are the woods most resistant to rot and insect damage. Composite is a man-made decking product that has been gaining popularity over the past years. Composite generally costs more than regular wood. A properly built wood deck will last about 30 years, and pressure-treated wood decks can last up to 40 years.
Retaining Walls help reduce soil erosion and are generally used to retain a hill area or higher elevation, to allow for level areas to occur, creating focal points in the landscape. Building the first stage is the most important; it must be level from front to back and side to side. A perforated drainage pipe is placed below the base and aggregate stone is added as each row is built. The soil must be reinforced with a high-strength polymer geosynthetic material, such as fabric or geogrid fabric. A well-designed retaining wall lasts many years and can add value to your home.
Visit our Galleries page for examples of past projects.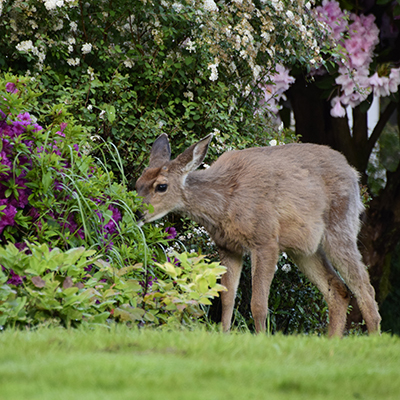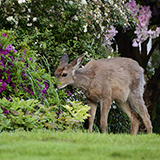 Deer Repellent Program
It is not surprising that the deer population continues to increase, practically taking over suburban and urban areas. After snow fall, their winter diet consists of woody browse, the twigs and stems of seedlings, saplings and shrubs. Their spring diet includes, buds, twigs, and developing foliage of woody and herbaceous plants.
Deer love roaming in areas where food is readily available, adult white tail deer will eat about 5 to 7 lbs. of food daily. From grazing grass to eating tree leaves and plants, they have come to eat almost everything around our properties. It seems that no flower or shrub is truly off limits to their voracious appetite. To compensate, we have come to count on the few plants they refuse in our gardens to thwart them. More and more, plush, fragrant gardens are relegated to nostalgic dreams of days gone by, when deer were actually afraid of humans.
For this reason, we introduced the DEER REPELLENT program. This is a safe, non-chemical method that works by spraying trees & shrubs, as well as annual flowers & perennials, once a month. The pungent odor and taste, which fades from our senses but not the animals, can keep deer, rabbits, and other creatures away from your plants. It also helps to deter other insects that feed on flowers and shrubs.
Because of this program, I have been enjoining my tulips and annual flower every year, why don't you. We are just a call away.
Visit our Galleries page for examples of past projects.